Day 521.
Sunday, June 24, 2018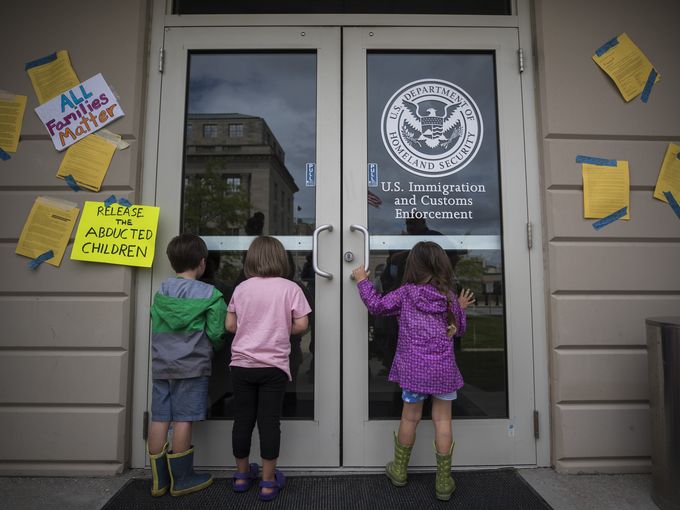 Trump retreats on family separation, but questions remain
Donald Trump folded on Wednesday, signing an executive order that claims to end the widespread cruelty of immigrant family separation. Yet questions till remain about the fate of the children already torn from their parents, and the Administration's border policy going forward. And the crisis has shined a light on the practices of Immigration and Customs Enforcement, leading many to ask if the agency should exist at all.
U.S. to Trump: End the cruelty
Reports that more than 2,300 immigrant children had been separated from their parents spurred a widespread outrage that seemed to take the administration by surprise. Department of Homeland Security secretary Kirstjen Nielsen left a restaurant early after protestors interrupted her dinner with chants of "end family separation", and days later had her home targeted by protestors who played audio of apprehended immigrant children begging for their parents. In Portland, a regional ICE office was temporarily shut down due to being surrounded by protestors, with the open support of mayor Ted Wheeler. In New York, activists gathered in airport terminals to sing songs of reassurance to immigrant children flown in by ICE to be placed at local shelters. In San Francisco, a billboard was altered to read "We make kids disappear -I.C.E.", and in Portland, an electronic roadside sign was hacked to read "ABOLISH ICE". And on Facebook, immigrant legal defense non-profit Raises raised more than $19 million.
States, companies, and religious organizations spoke out as well. Conservative religious groups such as the National Association of Evangelicals issued a statement opposing the policy. More than 600 Methodist clergy and laity filed church law charges against Attorney General Jeff Sessions for his role in the separations. Eleven states announced they would sue the Trump administration over the policy, and a different group of eleven states ended plans to have their National Guards cooperate with federal border enforcement. American, United, and four other airlines announced they didn't want their planes used to transport separated migrant children.
What happens to the children?
Trump's executive order is a rare admission of political retreat, but it remains to be seen how the policy will play out on the ground. For one thing, it's unclear whether the more than 2,300 children already affected can be returned to their parents. It's possible that the administration did plan out a reunification procedure. On Friday, the Department of Health and Human Services announced it was forming an "unaccompanied children reunification task force"--not a reassuring sign considering that such procedures should've been decided months ago.
Beyond the task of reunification, the Trump administration still maintains that its "zero-tolerance" policy of prosecuting all unauthorized border crossings remains in place. But this may also hit logistical hurdles: There are not enough beds to detain all border crossers, and a 2015 court ruling requires the administration to detain children for no more than 20 days, even when they are with their parents. So it's possible that the zero-tolerance policy collapses in the weeks to come. Brandon Judd, president of the union representing Border Patrol agents, told CNN "We're going to have to release them."
A problem like ICE
One side effect of this crisis is that the new focus on the inner workings of deportation has led to increased calls to abolish ICE. At least 21 Democratic congressional primary candidates have called for its abolition, and Cynthia Nixon, a progressive challenger for the New York gubernatorial race, advocated the change in The View.
ICE has only existed since 2003: Before that, immigration enforcement belonged to the now-dissolved Immigration and Naturalization Service, which also handled non-deportation functions such as processing immigration claims. In this writer's opinion, the abolition of ICE is worth strongly considering. Organizational cultures have an inertia of their own, and anybody who is concerned about the future of civil rights in the U.S. should be wary of an organization that does nothing but deport vulnerable people every day.
Families belong together, this Saturday and forever
Donald Trump has retreated from his family separation policy, but many questions remain, from the fate of the separated children, to the still-active zero-tolerance border policy, to the question of whether a democratic government can safely foster an organization like ICE. Meanwhile, the President has learned nothing from this episode. He will continue to treat vulnerable people as political playthings unless he is restrained by others.
On Saturday, a massive coalition of non-profits including MoveOn, the ACLU, Indivisible, and the Women's March will march across the country in support of immigrant families. If you believe the President's racist instincts and indifference to mass suffering are a black mark upon the country, if you believe that migrants should be treated with empathy and mercy, if you believe that the escalating Presidential rhetoric of dehumanization debases us all, you should find a protest near you and attend.
Trump and his enablers, inside and outside of the White House, see their step backwards as merely a tactical retreat. In their words and deeds, it's clear that they still believe that they speak for most of the nation.
This Saturday, you can gather with millions of your fellow Americans, and you can prove them wrong.