Day 507.
Sunday, June 10, 2018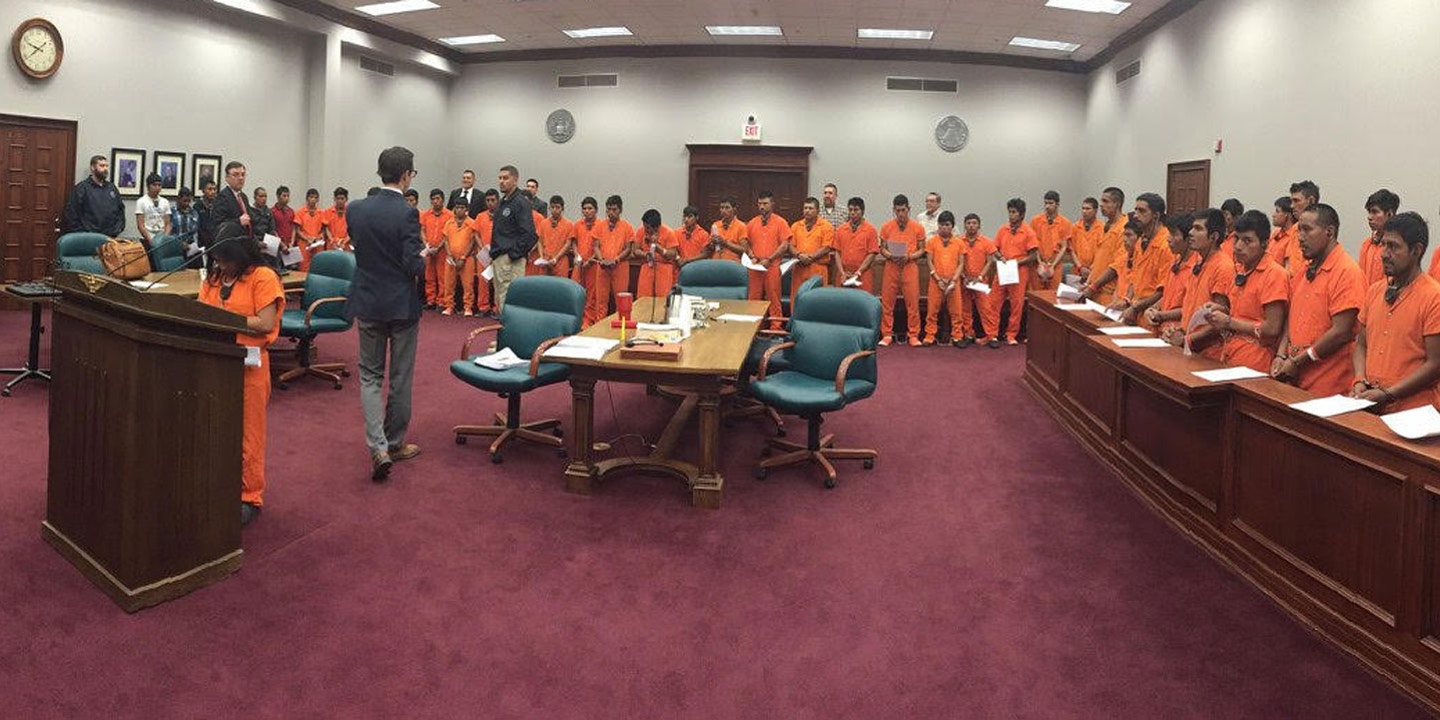 Day after day, asylum seekers are ground up in the gears of Trump's deportation machine
It has been one month since Attorney General Jeff Sessions announced that the Justice Department will prosecute all asylum seekers entering the U.S. as illegal border crossers--in spite of the federal and international rights of asylum seekers--and reports are shedding more light on the consequences of this policy. The Intercept highlights one federal court along the border with a caseload that has skyrocketed from three to eight cases per day to more than 40. As a result, public defenders only have a few minutes to prepare with each defendant, and federal prosecutors have been unable to answer the judge's questions about whether parents are being reunited with their children in detention.
The inhumanity of this administration's immigration policy can be seen elsewhere as well. A Honduran father, separated from his wife and child, killed himself in a padded cell. An Eritrean national who was denied asylum committed suicide in a holding area in Cairo. A 19-year-old Dreamer who had grown up in Iowa was deported to Mexico and was murdered three weeks later.
In one bright piece of news, a federal judge ruled that the Trump administration cannot withhold federal law enforcement grant money from Philadelphia over its sanctuary city policy. "Philadelphia has always been and will always be a welcoming city," said Mayor Jim Kenney after the decision. "Philadelphia needs its immigrant community."
Progress
Louisiana restored voting rights to people with felony records who have been out of prison for at least five years.
Setbacks
Federal authorities seized years of phone records from a New York Times reporter as part of a federal investigation into leaks of classified information. Such seizures occurred under President Obama's administration as well, but a number of legal experts told Vox this move still amounts to a meaningfully increased threat to press freedom.
Education Secretary Betsy DeVos told a Senate committee that a federal school safety commission will not focus on the role that guns play in school violence. Meanwhile the family of David Hogg, one of the anti-gun activists who survived the mass murder at Stoneman Douglas High School, was "swatted" -- i.e., somebody called the police department falsely claiming there was a hostage situation at their house. Nobody was harmed as a result of the incident.
Developing
A new public health study estimates that 4,600 Puerto Ricans died as a result of Hurricane Maria.
Trump's Justice Department will not defend the Affordable Care Act from the latest challenge to its constitutionality. Such a move does not guarantee the law will be struck down: Other groups, including a group of 17 Democratic-led states, are likely to defend it in court.
Special counsel Robert Mueller brought new charges against Paul Manafort, Donald Trump's former campaign chair, and Manafort's longtime business partner, for attempting to tamper with potential witnesses.