Day 486.
Sunday, May 20, 2018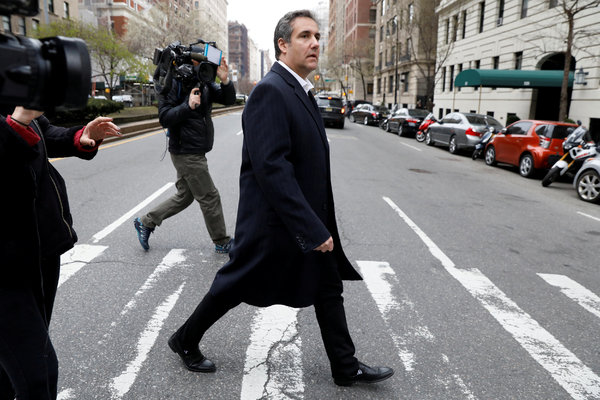 One year into the Mueller probe, the revelations continue
As special counsel Robert Mueller's election meddling investigation enters its second year, Donald Trump's personal attorney Michael Cohen has come under increased scrutiny. The New York Times and the Wall Street Journal both report that Essential Consultants LLC, the shell company used by Cohen to pay hush money to porn star Stormy Daniels, also received millions of dollars in payments from a company linked to a Russian oligarch and several other U.S. corporations with business before the Trump administration. Cohen never registered as a lobbyist: If he lobbied the government on behalf of those companies, he is likely in violation of federal disclosure laws.
Trump's defenders have been calling for the Mueller probe to wind down, but it's worth noting that a year is not long compared to other similar investigations in U.S. history. Kenneth Starr's Whitewater investigation, which led to Bill Clinton's impeachment in 1998, ran for four years. And the Senate Watergate investigation that predated Richard Nixon's resignation lasted for eighteen months.
Mueller's team has made brisk work of its first year. Before this week, five people had pleaded guilty: That count climbed to six on Thursday, with Reuters reporting that Paul Manafort's former son-in-law Jeffrey Yohai had cut a deal with the Justice Department.
And the charge of election meddling may apply to countries besides Russia: The New York Times reports that in the summer of 2016, Donald Trump Jr. took a meeting that included an emissary from princes from Saudi Arabia and the United Arab Emirates. It's unclear whether these foreign governments provided any assistance with the election. In the second year of the Mueller probe, we're likely to find out.
Progress
Female candidates came out strong in this month's primaries, winning 17 out of 20 races for open House seats.
Ohio's Governor John Kasich, a rare pro-immigration Republican politician, opened a state agency to help legal immigrants move to the state.
Setbacks
At a meeting with California sheriffs, Trump used the term "animals" to describe "people coming into the country", later insisting he was only referring to members of the gang MS-13. Meanwhile, agents for Trump's Immigration and Customs Enforcement continue to insist that a DACA recipient in Seattle is a gang member without any evidence to support this claim.
So far this year, more Americans have been killed at schools than killed while serving in the military.
As the United States Embassy was relocated to Jerusalem, Israeli soldiers fired on a crowd of Palestinian demonstrators, killing at least 50 people.
Education secretary Betsy DeVos is winding down investigations into widespread abuses by for-profit colleges.
The Environmental Protection Agency and the White House sought to block publication of a federal health study warning of a nationwide water-contamination crisis. The study remains unpublished.
Developing
Judging by Republican ads for Congress, Trump's takeover of his adopted party continues apace: 37% of ads included Trump's name or image, and every mention of Trump was favorable.
In North Carolina, thousands of teachers rallied outside the state legislature, demanding better pay, benefits, and school funding.