Day 472.
Sunday, May 6, 2018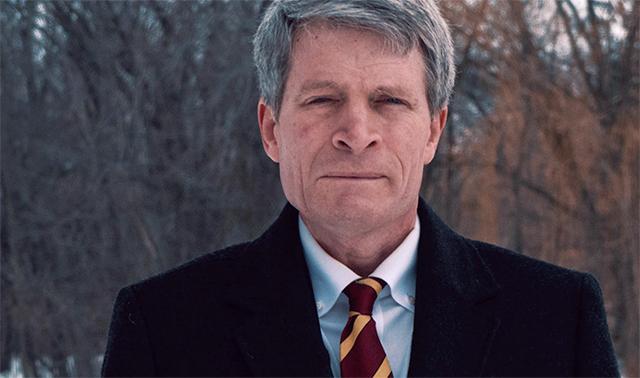 Richard Painter and the search for a Never Trump foothold
In Minnesota, anti-Trump Republican Richard Painter added a novel twist to this November's special election for Senate. He announced he will run for the office, but as a nominee of the Democratic Party. What does it say that he feels that his anti-Trump campaign has no chance within the GOP, and what does it say for those with similar beliefs looking for a political home?
Painter was chief White House ethics lawyer under President George W. Bush from 2005 to 2007, and can be counted as an early member of the "Never Trump" movement, which comprised of Republicans openly opposed to Donald Trump's political rise. He's the vice-chair of Citizens for Responsibility and Ethics in Washington, which sued Trump last year for emoluments violations. (The case was dismissed due to lack of standing.) He is currently a law professor at the University of Minnesota, and a frequent critic of Trump on CNN, MSNBC, and other cable TV networks. This is his first time seeking elected office.
He has evidently decided there's no use in pursuing the Republican nomination. Trump's approval among Republicans continues to be strong, and Painter is not mincing words about his longtime party's deal with the devil, calling out "collaborators in the Republican Party" at his press event on Monday.
The conventional party wisdom considers Painter a long shot. To win the nomination he would need to beat incumbent Tina Smith, who was the state's lieutenant governor for three years before being appointed to the seat in the wake of Al Franken's resignation.
Still, these are unpredictable times. Painter calls himself a centrist, and in fact many of his stated positions would be acceptable to fiscally moderate Democrats: He wants to fight climate change, fight the NRA, and enact universal health care in some form. His main criticism of Smith, that she has been insufficiently tough on the President's corruption, may gain prominence in the next three months as more revelations come to light. And Minnesota is a state with an unpredictable streak, having elected progressive stalwarts like Sen. Paul Wellstone, right-wing lunatics like Rep. Michele Bachmann, and wild cards like ex-pro wrestler Governor Jesse Ventura.
Whatever becomes of Painter's campaign, it will serve as another marker in the ongoing struggle for the heart of the GOP. Never Trump Republicans may get the star treatment on MSNBC, but they are increasingly without a political party. And creating a new center-right third party would be nearly impossible: Third parties in the U.S. face nearly insurmountable challenges, including winner-take-all voting and state-level ballot control by the Republican-Democrat duopoly.
So they face a difficult choice: Either fight the conspiracy theorists and nativists running riot within their own party, or take up temporary residence among the Democrats. Painter, to his credit, is being a polite guest in the other party's home for now: He has said he will not run a negative campaign against Smith.
Could Painter force Smith to sharpen her criticisms of the President? Could an influx of moderates into the party's open primaries neutralize the increasingly bold progressives within party ranks? Never Trump Republicans around the country are likely to be watching this race, taking notes.
Progress
A New Hampshire court ruled against Customs and Border Protection, saying it had abused its border enforcement powers to help state police get around the state's Constitutional protections in an effort to maximize marijuana prosecutions.
Outdoor equipment manufacturer Vista Outdoor will stop making firearms in response to retailer boycotts.
Michael Cohen has been hit with more state warrants for unpaid taxes on his taxicab companies. He now owes $282,000 in unpaid taxes to New York.
In Virginia, two men were found guilty of assaulting a black counterprotestor during last August's "Unite the Right" rally in Charlottesville. In Kansas, the man who shot and killed an Indian engineer after yelling "get out of my country" was sentenced to life in prison.
A New York City judge ruled in favor of the condo board at Trump Place, saying they could remove the President's name from the building. Since the 2016 election, three other NYC buildings have removed the Trump name.
Setbacks
Atmospheric carbon dioxide concentrations are now at the highest level in all of human history.
The Trump administration will stop granting Temporary Protected Status, a protection given to people who are escaping humanitarian disasters in their home countries, to 57,000 people from Honduras. The total count of people who will be forced to leave due to TPS closures is 400,000.
Two Virginia insurance companies want to raise their premiums by 15% and 64% next year, citing the repeal of the ObamaCare individual mandate in the Republican tax package passed in December.
Newly released documents reveal that George Mason University, Virginia's largest public university, gave the conservative Charles Koch Foundation input into the hiring and firing of professors in exchange for millions of dollars in donations.
Ukraine's chief prosecutor has effectively frozen money laundering inquiries by Robert Mueller's Russia investigation, for fear of offending the Trump administration at a time when they are looking to buy weapons from the United States.
Developing
In San Juan, P.R., police clashed with thousands of protestors who were marching against a recently approved austerity package that will close schools and cut public pensions.