Day 458.
Sunday, April 22, 2018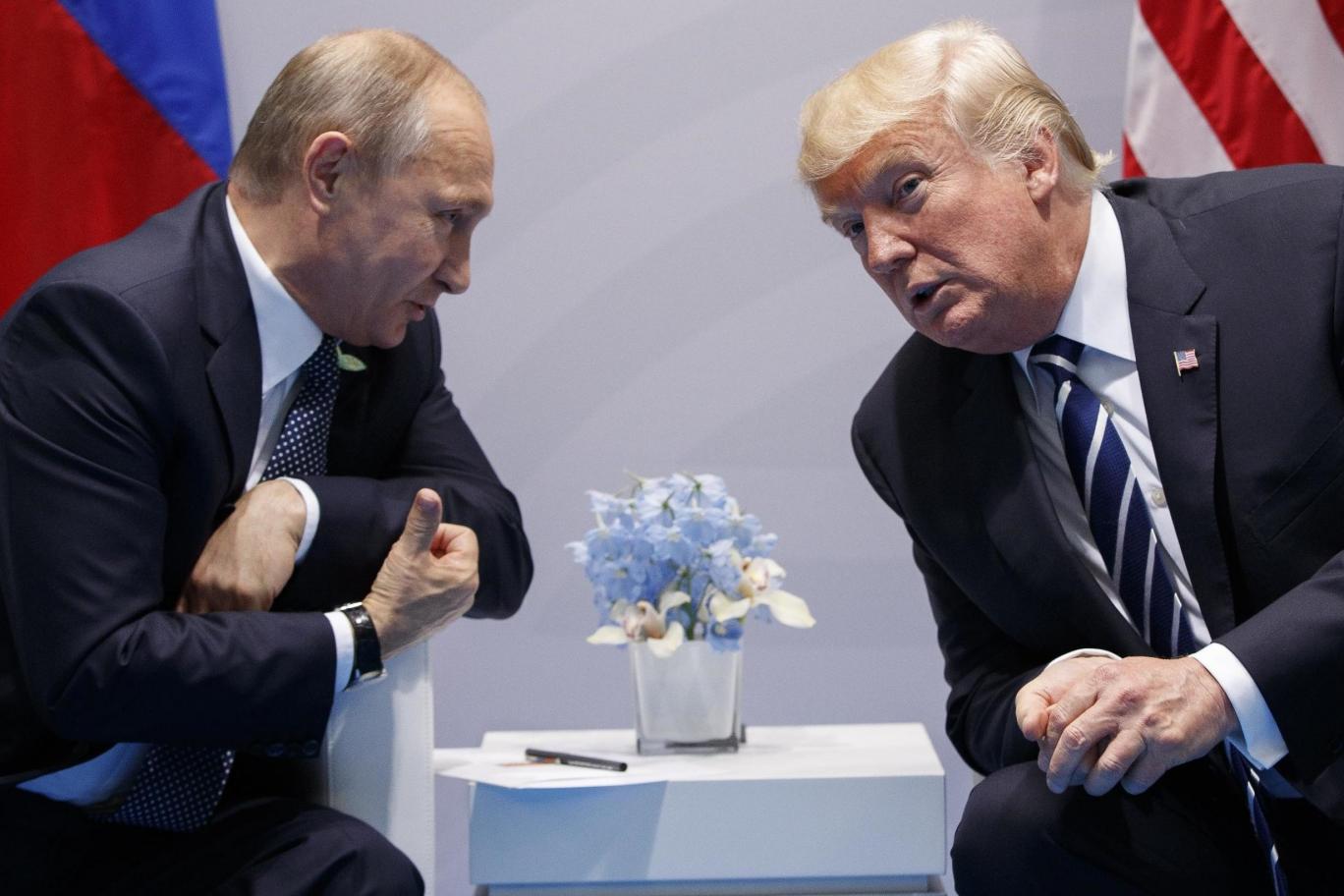 In public and in private, Trump continues to defend Putin for reasons unknown
In the six weeks since the attempted poisoning of a former Russian spy in England, the Trump administration has followed the lead of European allies in taking a tougher stance against the Russian government, expelling diplomats and adding new sanctions. According to a story in the Washington Post, this has largely been at the urging of Donald Trump's senior aides, as the President himself has dragged his feet for reasons that remain unclear.
At times, these disagreements have been heated: Last month, Trump became outraged over whether the U.S. was expelling more key Russian diplomats and suspected spies than its European allies. The Post story describes Trump as "furious", "screaming" about a misunderstanding regarding the number of expulsions. "There were curse words", one official said. "A lot of curse words."
Trump remains the President, of course, free to disagree with his own advisers in public or private. On Monday, he did just that with Nikki Haley, ambassador to the United Nations. Haley had said that new sanctions would be applied to Russian companies found to be assisting Syria's chemical weapons program; Trump contradicted that statement the next day. This pro-Putin policy is a return to form for the President, who earlier this year refused to enforce another set of Russian sanctions passed by Congress.
Given Trump's propensity for personal and ideological disloyalty, and how difficult the Putin association has been for him, Trump's refusal to take a harder line against Putin is one of the most seemingly self-defeating aspects of his Presidency. Unless you believe it's significant how many campaign officials have lied about meetings with Russians, and that Putin might have some way to retaliate against Trump personally. With Robert Mueller's investigation moving forward, and Trump's own aides urging him to do the right thing, we may one day find out what it is that Putin has on our President.
Progress
Incumbent House Republicans are having a tough time fundraising for this year's midterms: 43 House Republicans raised less money than Democratic challengers in the first three months of the year. At this point in the 2010 election, when Republicans ended up taking control of the House, the number of Democratic incumbents who were outraised by challengers was only 35.
New Jersey became the 13th state to adopt automatic voter registration.
Setbacks
In Kansas, three right-wing militiamen were found guilty of a 2016 plot to kill Somali Muslim refugees with homemade bombs. The men exchanged text messages calling the refugees "cockroaches", and considered various kinds of shrapnel, including ball bearings and blades for drywall knives, to use to inflict the most carnage.
Developing
Former New York City mayor Rudy Giuliani has joined Donald Trump's legal team. However, Giuliani was involved with Trump's 2016 campaign, and if he becomes a witness in Robert Mueller's Russia investigation it will present an obvious conflict for him.
Democratic Senator Chuck Schumer announced he will introduce legislation to decriminalize marijuana. Such a law is unlikely to pass in a Republican-led Congress, but remains a potent sign of early electoral positioning especially to young voters who overwhelmingly support legalization.
A neo-Nazi gathering in Newman, Ga. was limited to only a few dozen protestors facing down hundreds of antiracist counterprotestors. However, counterprotestors criticized the actions of the Newman police department, who seemed far more interested in suppressing them than the side openly calling for ethnic cleansing.
After Memphis voted to remove Confederate monuments, the Republican-dominated Tennessee House removed funding for a bicentennial celebration as punishment.