Day 451.
Sunday, April 15, 2018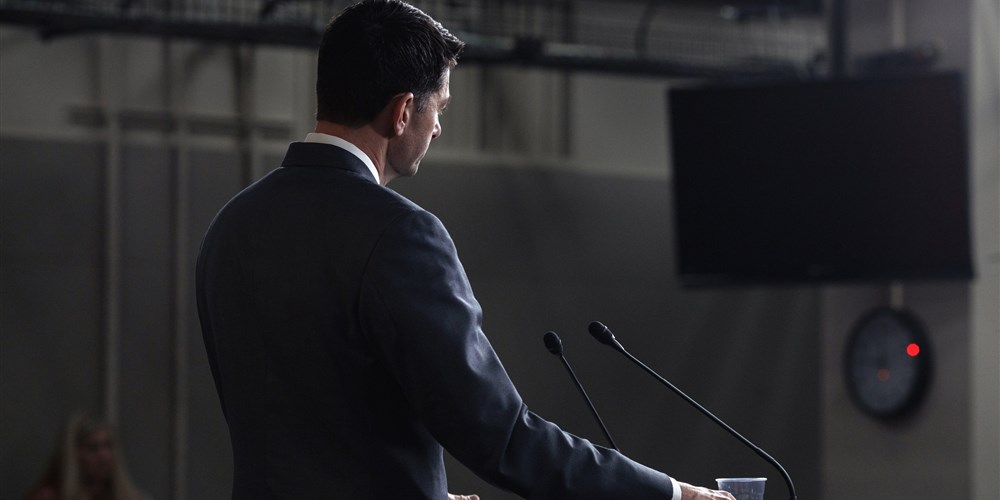 Paul Ryan to GOP: Best of luck
On Wednesday, House Speaker Paul Ryan announced that he will retire at the end of his term. This announcement only adds to the Republican Party's woes as it seeks to hold on to the House in this November's midterms.
Ryan was considered a rising star when he entered Congress in 1998, and throughout his Congressional career he was elevated by the press as an intellectual heavyweight, particularly on matters of economic policy. But Matthew Yglesias of Vox argues that this was always a con. Ryan excelled at putting a thin veneer of respectability over fiscally irresponsible, plutocrat-friendly legislation, and an insecure media was eager to play along to avoid charges of bias.
It's rare for a House Speaker to step down without losing a majority or being entangled in personal scandal: At 48 years old, Ryan is the youngest House Speaker to voluntarily resign in the last century. His resignation will add even more stress to a GOP uncertain about its fate in November. Ryan is one of the most successful House fundraisers in history, but will likely face tougher odds chasing checks for a party he no longer leads. Meanwhile, the GOP's ranks continue to thin out: There have been more congressional retirements this year than at any point since 1992.
As for Ryan's home district in Wisconsin, Republicans now need to recruit another candidate to take his place. That candidate will likely face off against Democrat Randy Bryce, an ironworker and union organizer who has already raised almost $5 million. The district tilts slightly Republican. But given the potential magnitude of the coming anti-Trump wave, Bryce might be the first Democrat elected there in 24 years.
Progress
Vermont's governor, long considered an ally of the NRA, signed the most restrictive gun-control law in the state's history. Meanwhile, companies continue to pull their advertising from Laura Ingraham's Fox News show after she mocked school shooting survivor David Hogg on Twitter. And Bank of America announced it will stop lending to companies that make assault-style guns for civilian use.
Arizona's governor has given in to demands for teacher pay raises, proposing to boost teacher salaries 20 percent by 2020.
Setbacks
The Oklahoma teacher walkout will end on Monday, after a second week in which teachers were unable to secure more funding for the state's school system.
Rape and sexual abuse may be endemic throughout the country's immigration detention system. The Intercept obtained documents referring to 1,224 such complaints from 2010 to 2017, most of which took place in Immigration and Customs Enforcement custody. Only 2 percent of these complaints appear to have been investigated.
Months after Hurricane Maria, thousands of Puerto Ricans are still without power. The power outage is now the second-largest recorded outage in world history.
Millions of Americans lack basic historical knowledge about the Holocaust, including how many Jews were killed or how Hitler came to power.
In Wisconsin, a 28-year-old white supremacist killed himself in an accidental explosion while making a bomb. The substances he was using were so dangerous that firefighters chose to intentionally burn down the 16-unit apartment block rather than let the man's neighbors continue to live in the building.
Developing
Donald Trump's personal attorney Michael Cohen is under federal investigation for possible bank fraud, wire fraud, and campaign finance violations.