Day 444.
Sunday, April 8, 2018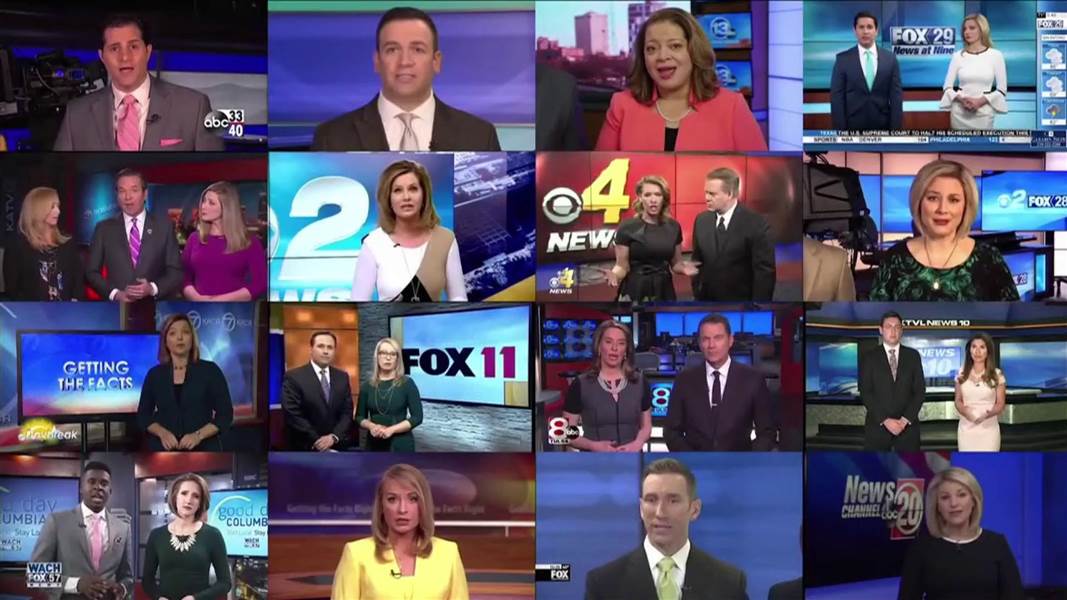 "This is extremely dangerous to our democracy."
A media conglomerate that has long pushed a right-wing agenda through its local television stations is under new scrutiny this week. Sinclair Broadcast Group forced anchors of its nearly 200 stations to read the same script attacking "irresponsible, one-sided news stories", which went viral last week when Deadspin compiled its doublespeak into a chilling video.
Television may lack the novelty of social media, but it remains hugely influential. Multiple studies report that far more Americans receive news from television than social media, and social media users were less likely to support Donald Trump in 2016.
Media critics have pointed out Sinclair's bias for more than a decade, but this recent video may have brought the issue to new prominence. Since their compilation went viral, Deadspin reports that local stations have been besieged by negative calls and emails. And although station workers are often forced by punitive employment contracts to comply, some stations still refused to tape the pledge, and one news producer resigned rather than go along.
How much further this goes remains to be seen. Few journalists feel they can be picky about their choice of employer, but a newfound anger could lead to further rebellions, especially in coordination with workers at other stations. As one journalist told Deadspin, "you're dealing with journalists. Of course we're going to document this and take notes."
In the meantime, if you'd like to know if any of your local TV stations are owned by the Sinclair Group, click here.
Progress
According to a new Washington Post/Kaiser Family Foundation poll, anti-Trump outrage led millions of Americans to attend their first protest. And the Associated Press reports that a record number of women will run for the U.S. House of Representatives this year.
A group of 17 states, seven cities, and the U.S. Conference of Mayors are suing the Census Bureau to remove a new citizenship question from the 2020 census.
Prominent Nazi site Stormfront is close to shutting down due to lack of funds.
Developing
Oklahoma teachers will continue their strike next week in spite of the state Senate passing a bill to fund the state's schools. Teachers insist that the bill does not go far enough to restore funding: Many school districts suffer textbook shortages and have cut school weeks to four days due to lack of funds.