Day 437.
Sunday, April 1, 2018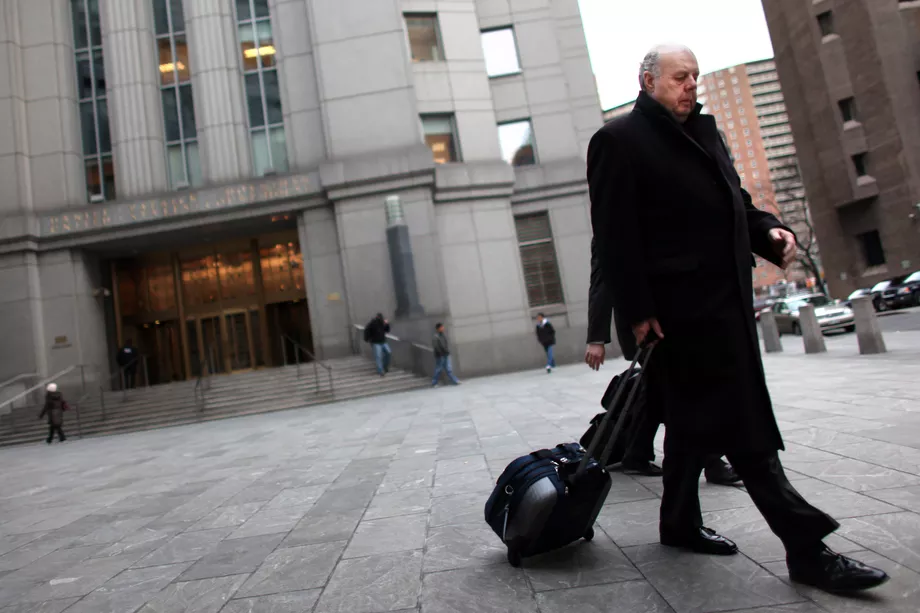 Trump's legal team shrinks to skeleton crew
Donald Trump is running out of lawyers. His top personal lawyer John Dowd resigned last week, reportedly frustrated with his client's unwillingness to listen to his advice. Recruiting efforts in the days since have largely failed, with at least two attorneys turning down an offer to join the team, and two others being rejected for possible conflicts of interest. In desperation, Trump's team promoted attorney Andrew Ekonomou to a more prominent role. Ekonomou is a former Georgia prosecutor and medieval historian. He has no experience with high-profile federal cases.
All this is taking place as various legal threats advance towards the president. On Monday, Stormy Daniels filed a motion that would require Trump to testify under oath about a hush agreement pertaining to an alleged affair between the two. On Wednesday, a federal judge ruled that the state of Maryland and the District of Columbia can sue the president on the issue of emoluments: The litigants argue that it is unconstitutional for Trump to operate businesses that benefit from his presidency.
And of course there is Robert Mueller's Russia investigation: Trump's legal team and Mueller's office are still in talks about Trump sitting for an interview under oath. This interview was reportedly part of the reason Dowd quit: He believed an interview with the special counsel would be too risky.
Ultimately, Trump may not have much of a choice. Mueller has the power to subpoena the president, and may choose that option if the White House continues to stonewall him. This would not be the first time a sitting president has been subpoenaed. In 1998, President Clinton was subpoenaed as part of the Monica Lewinsky investigation. And the time before that was in 1974, when President Nixon was forced to hand over materials related to the Watergate scandal that would later finish his presidency.
Progress
The cause of voting rights advanced in two states this week. In Florida, a federal judge ordered the state to submit more transparent rules for how former felons can have their voting rights restored. In Maryland, the legislature approved an automatic voter registration bill by veto-proof majorities in both houses. The bill would register voters when they deal with certain state agencies, including when they obtain or renew driver's licenses, unless they explicitly opted out.
At least fourteen companies withdrew their advertising from Laura Ingraham's Fox News show after she mocked David Hogg, a teenage survivor of the Stoneman Douglas High School mass murder, for being rejected from multiple colleges. Meanwhile, the gun manufacturer Remington is filing for bankruptcy protection after being crippled by corporate debt, lower sales, and lawsuits tied to the Sandy Hook mass murder in 2012.
Wisconsin Governor Scott Walker has dropped his fight to prevent two special elections expected to hand state legislative seats to Democrats. After a court order last week, Walker had planned to rewrite the special election legislation: These efforts collapsed following another court order on Wednesday.
A federal court issued an interim ruling that for the time being, the Trump administration cannot force pregnant teenagers who are in custody as undocumented immigrants to carry their pregnancies to term. A lawsuit by the American Civil Liberties Union is expected to move forward for a full hearing by the court.
A Boston judge allowed thirteen protestors of a natural gas pipeline to use the "necessity defense", a legal argument in which defendants argue they had no legal alternatives and were acting to prevent imminent danger. All charges have been dismissed. Climate change activists are hopeful this will help establish legal precedent in similar cases in the future.
Trump ordered the expulsion of 60 Russians from the country in response to Russia's alleged poisoning of a former spy in the U.K. This may represent a new willingness by the White House to follow the lead of European allies in responding to aggression from Vladimir Putin's government. However, it's worth remembering that Trump has still not implemented the Russian sanctions bill passed by Congress last year.
Setbacks
The Trump administration announced it will add a question about citizenship to the 2020 census. This goes against the recommendations of a number of experts, including the Census Bureau's own Census Scientific Advisory Committee, that such a question could intimidate respondents and hurt the accuracy of the count. At least twelve states have said they will sue to block the change.
Developing
Trump fired Veterans Affairs Secretary David Shulkin, the last remaining cabinet holdover from President Obama's administration. Trump argued that a controversy over use of funds on a trip to Europe required the change, but Shulkin notes that Trump's cabinet remains scandal-plagued and says that Trump's true aim is to pave the way for privatizing the VA system.
The White House's Office of Government Ethics is examining Jared Kushner's actions in receiving two business loans totaling more than $500 million.
New York state lawmakers passed a bill prohibiting police officers from having sex with people in custody. The bill was passed in response to the incident last year in which two narcotics detectives had sex with an 18-year-old woman while she was under arrest. The case is pending trial.