Day 402.
Sunday, February 25, 2018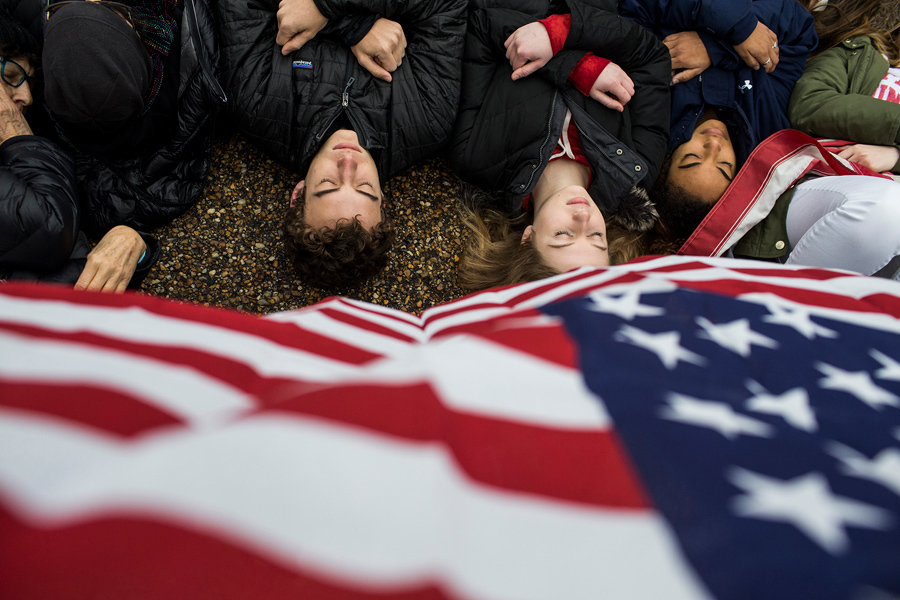 High-school activists push on, heading for a fight with the NRA
In the aftermath of the mass shooting at Stoneman Douglas High School, we are seeing early signs that public pressure for sane gun control may finally result in policy change. The first such sign has been a number of corporations, including Delta, United Airlines, MetLife, and Symantec, cutting ties to the National Rifle Association in the eleven days since the latest slaughter.
Some state politicians are taking notice as well. The Oregon state legislature passed a bill banning anyone with a domestic violence conviction from owning a firearm; it is expected to be signed into law by the governor soon. Florida's Republican governor Rick Scott said he endorsed raising the minimum age for purchasing rifles to 21 years old, in a significant break from the policy platform of the NRA.
Some of this is no doubt due to the exceptional efforts of high school activists to keep this issue in the headlines. In the past week, hundreds of students rallied at the steps of the Florida state capitol, with hundreds of other students gathering for another protest in Washington D.C. On Wednesday, students at dozens of high school from Arizona to Maine walked out of class in a nationally coordinated protest.
Such efforts have not always been welcomed by high school administrators, with some warning students they would face punishment for walking out of class for protests. In response, more than a hundred colleges and universities, including Yale, MIT, Dartmouth, and Brown, issued statements saying that a student's chance of admission would not be affected by protest-related disciplinary actions.
The NRA remains a formidable force, skilled at stopping any restrictions on the sale of firearms. But due to the new energy of a generation of outraged, social-media savvy young activists, we may be witnessing the best chance in years to push for sane gun legislation in America. For now, most of the organizers are focused on March 24. That's the date of the upcoming March for our Lives protest, to take place in Washington D.C. and at other cities around the country.
Rick Gates pleads guilty in Russia investigation
Robert Mueller's Russia investigation gained more leverage on Friday, as Rick Gates, a former top official in Donald Trump's presidential campaign, pleaded guilty to conspiracy and lying to the FBI. Gates' plea came one day after Mueller had filed new charges against him and his associate, former Trump campaign chair Paul Manafort.
Gates' guilty plea includes no charges related to any specific incidents within the Trump campaign instead. However, Gates' plea deal includes unspecified cooperation with Mueller's team, and as a senior member of the Trump campaign he likely would have been in a number of key meetings with other campaign staff.
Progress
Weeks of legal wrangling over Pennsylvania's congressional map have resulted in the state Supreme Court drawing a new map on its own, which it says solves the previous map's problem of being gerrymandered in favor of Republicans. Some analysts expect Democrats could gain as many as four House seats in this year's midterm elections as a result.
Oakland's mayor issued a warning to Bay Area residents that ICE operations could begin "as soon as within the next 24 hours". The conflict over immigration enforcement between liberal cities and federal immigration authorities have been intensifying over the course of the Trump administration: This newest development represents an unusually defiant note of opposition from a city official.