Day 388.
Sunday, February 11, 2018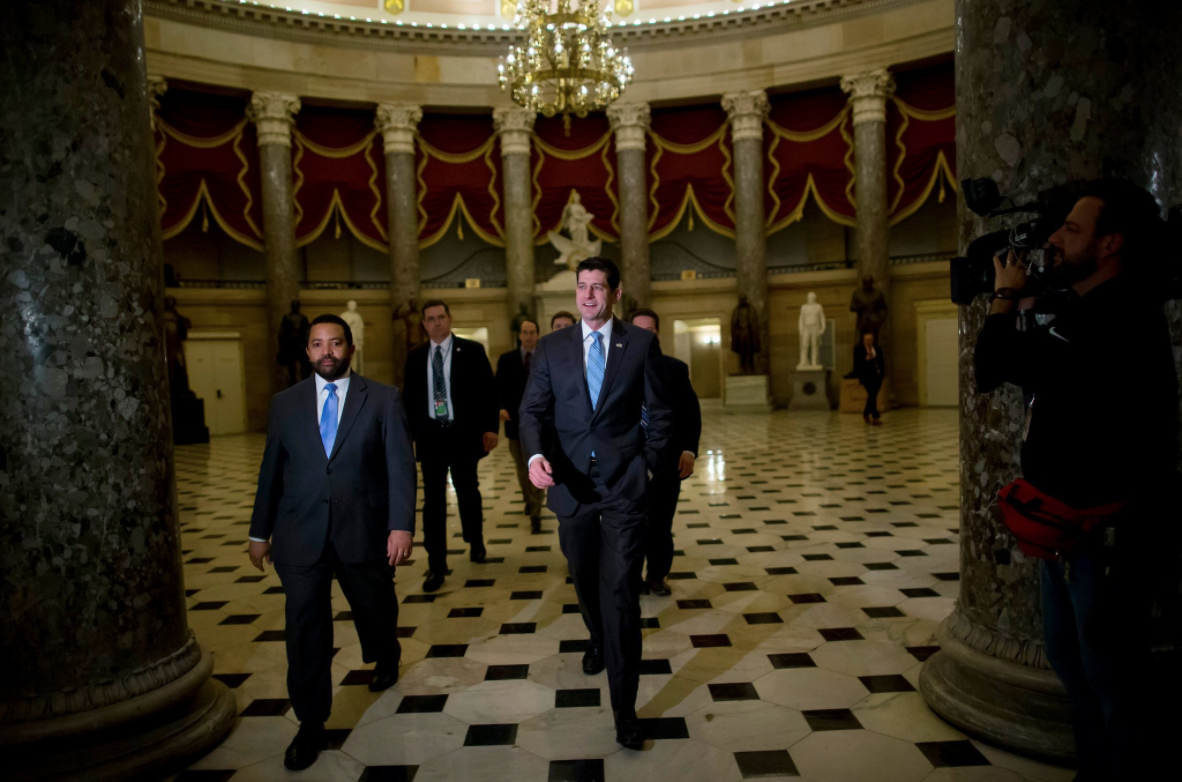 Hoping to save DACA another day, Dems give up the shutdown fight
Congress brought the nation's shutdown drama to a close this week, passing a bipartisan budget deal that will keep the government funded until September of next year. The deal was signed by Donald Trump on Friday.
Foreign policy hawks in the Republican Party were happy to see the package include a $165 billion increase in defense spending over the next two years. Democrats received funding for a number of smaller items, including $20 billion for infrastructure, $5.8 billion for child care, $6 billion to fight opioid addiction, and a 10-year extension of funding for Children's Health Insurance Plan, which makes it easier for low-income children to get health care.
Notably absent from the deal were any changes to immigration policy. The legal status of Dreamers, immigrants brought illegally to the United States as children, continues to remain uncertain. Last September, Trump had closed the DACA program that protected Dreamers from deportation, and bringing back DACA had been a Democratic priority during the government shutdown last month. This time around, many progressive groups were coming in line with the more cautious thinking of Democratic leadership: That even though DACA is politically popular, using it to hold the national budget hostage could have backfired.
As part of this week's budget deal, Republican leaders have promised to address DACA in the near future, but the path forward is uncertain at best. The Senate is scheduled to begin a floor debate on the issue next week, but Majority Leader Mitch McConnell has done almost no work to guide the discussion. The House has no debate scheduled.
The parties are gripped by different kinds of indecision. Republicans are reluctant to take any decisive action on DACA, since their party is split almost evenly on the policy of letting Dreamers stay. Democrats are on the morally right side of an issue that hurts Republican unity, so this should be an easy win, but they may be struggling to muster popular outrage on such a complex issue at a time when the national news is so overwhelming.
For now, the 690,000 immigrants previously protected by DACA wait in limbo, unable to predict their status amid a Kafkaesque tangle of political maneuvering, court rulings, and regulatory confusion. As Democrats weigh how to win this fight, and Republicans wrestle with the white nationalist energies unleashed by their impulsive President, the Dreamers try to live their lives, caught each day in a state of cruel uncertainty.
Setbacks
Last June, California Highway Patrol officers investigated incidents of violence at a white nationalist rally in Sacramento. Newly released court documents show that some of the officers worked with white supremacists, giving them information about the status of the investigation and cooperating to identify counter-protestors.
Developing
Associate Attorney General Rachel Brand, who had served for twelve years under Presidents George W. Bush and Barack Obama, resigned to take a position with Walmart. Brand had been the designated successor to Deputy Attorney General Rod Rosenstein: Her departure from the Justice Department could end up making it slightly easier for Trump to fire special counsel Robert Mueller.
Republican leaders in Pennsylvania filed a new congressional map in response to an order by the state Supreme Court to undo the gerrymandering in their previous map. Democratic Governor Tom Wolf criticized the new map, saying it had been drawn without Democratic input and was unlikely to meet the court's criteria for fairness.