Day 381.
Sunday, February 4, 2018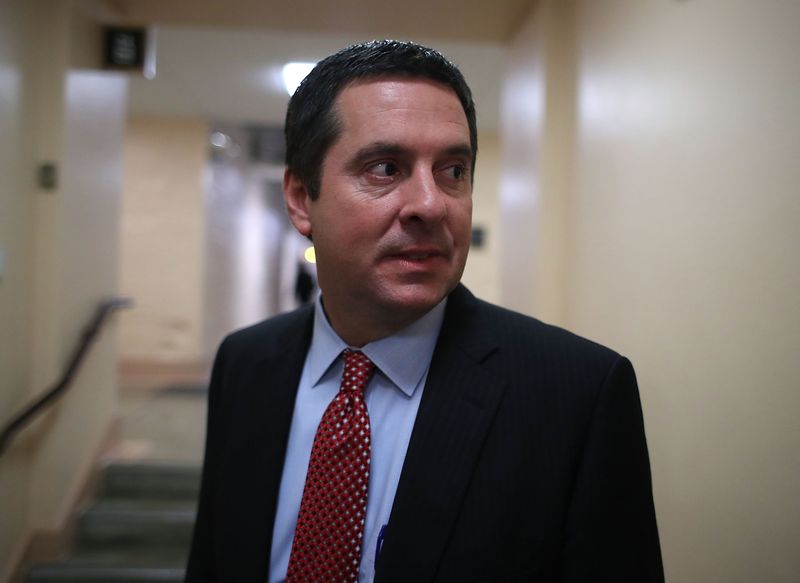 Nunes puts party over country as Trump sets his sights on Rosenstein
On Friday, Republicans on the House Intelligence Committee acted to defend Donald Trump from special counsel Robert Mueller's Russia investigation, releasing a memo that accuses the FBI and the Justice Department of abusing their powers. For weeks, right-wing media had been hyping the memo and calling for its release: By granting this wish, Congressional Republicans once again revealed their willingness to defend their President no matter the long-term damage to their own party, to public faith in federal institutions, or to the political fabric of the United States itself.
The weak claims in Nunes' memo
Committee Republicans did not burden themselves with the appearance of bipartisanship. The memo was written by committee chair Rep. Devin Nunes, who served on Trump's transition team after the campaign and made news last year with ill-informed accusations incidental collection. And at the same time that Republicans on the committee voted to release Nunes' memo, they also voted to suppress another memo written by Democrats rebutting Nunes' claims.
In the hands of Trump allies, the memo has become part of a convoluted argument to discredit the Russia investigation. The argument goes like this: When the FBI applied to surveil Trump campaign adviser Carter Page in 2016, it relied on the Christopher Steele dossier without revealing its partisan origins as being partially funded by the Democratic Party. Thus the origins of the investigation are hopelessly tainted.
Paul Rosenzweig, a former member of the Whitewater investigation of President Bill Clinton, writes that this argument "makes no sense" for a number of reasons, most prominently that FBI surveillance of Page did not begin during the Trump campaign. It began as early as 2013, before Trump was an official candidate and before Page was working with him. In fact, the day after the Nunes memo was released, Time reported that it had obtained a 2013 letter by Page to an academic press in which he bragged that he was an "informal advisor to the staff of the Kremlin."
Trump and allies pushing harder against the Justice Department
Nunes is not acting in defense of the rule of law, of course. He is simply trying to provide political cover for Trump if he takes more drastic actions to stop Mueller's investigation. In addition, Nunes confirmed this past week that the committee is investigating the Department of Justice and FBI over these matters.
Such pressure has already led to another change in FBI leadership: On Monday, FBI deputy director Andrew McCabe stepped down after months of intense criticism from the President. McCabe had been expected to retire soon, and his acting replacement, David Bowdich, is a twenty-year veteran of the Bureau. So whether this change will give Trump a more malleable Bureau remains to be seen.
Meanwhile, as Washington focuses on the implications of Trump's fight with his own Justice Department, the State Department is refusing to implement the Russia-related sanctions passed by Congress last year. For somebody who insists he barely knows Vladimir Putin, our President sure goes to a lot of trouble not to upset him.
As Trump's legal team resists Mueller's request for an interview with the President, the threat to the federal justice system remains. On Friday, Trump would not say whether he was planning on firing Deputy Attorney General Rod Rosenstein. "You figure that one out", he told a reporter.
What you can do
Firing Rosenstein would put Trump one step closer towards having Mueller fired, or having his investigation severely curtailed or shut down. Nobody can predict whether our Republican-controlled Congress would act in the country's interest at that point, so MoveOn.org is maintaining a list of coast-to-coast protests that would activate soon after such a move.
If you have not signed up already, now would be the time to do so. Hopefully Trump will not act rashly. Hopefully Congressional Republicans will put country over party if pushed this far. But this is not a season for complacency and easy predictions. Before all is said and done, every single one of us may be called upon to stand up for justice and the rule of law in America.
Shutdown II looms with days to go
As the controversy over the Nunes memo consumes Washington, the country ticks closer to another federal shutdown. Congress has four more days to approve a budget that would avert a shutdown, but little progress has been made. As expected, Senate Majority Leader Mitch McConnell has not kept his promise to put an immigration bill up for debate. Whether Democrats are willing to risk a standoff over this issue remains to be seen.
Progress
On Monday, House Republican Trey Gowdy announced he will not seek reelection in this year's midterms. More House Republicans have announced retirements at this point in the election cycle than at any time in the past 18 years.
The director of the Centers for Disease Control and Prevention resigned because of conflicts of interest due to personal investments in tobacco and health care companies.
Setbacks
The Federal Emergency Management Agency shut off emergency water and food aid to Puerto Rico. In some parts of the island, a third of residents were still dependent on FEMA's food and water rations.
Developing
Pennsylvania Republicans are challenging the state Supreme Court's decision forcing them to redraw its gerrymandered congressional map. They say they will appeal the decision to the U.S. Supreme Court if need be.