Day 204.
Friday, August 11, 2017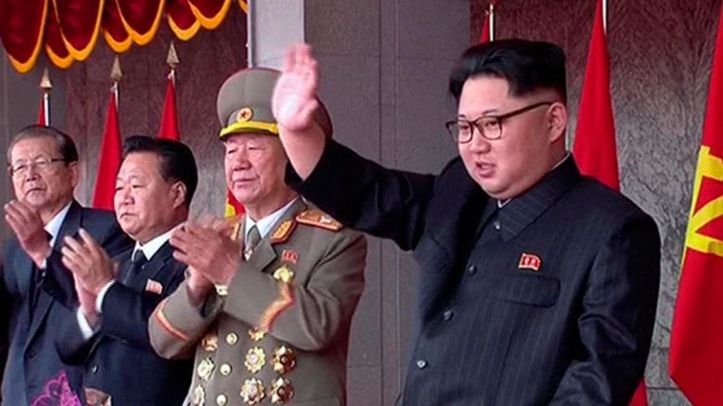 North Korean stalemate continues as China urges calm
The shouting match between the leaders of the U.S. and North Korea continues. From his New Jersey gold club, Donald Trump tweeted a threat to Kim Jong Un this morning, saying that military options are "locked and loaded". In a state-run newspaper, North Korea warned that the U.S. "will dearly pay for the harshest sanctions and pressure and reckless military provocations."
Meanwhile, China issued a stern call for stability through one of its state-owned newspapers. It said that North Korea's leaders would get no help from China if they initiated a conflict, but also that China would prevent any attempts by the U.S. and South Korea to overthrow the North Korean regime.
Many people, including our President, have openly wished that China would use its economic leverage to pressure North Korea, but this has not happened. POLITICO has a good primer on China's perspective on the problem: If North Korea were to collapse, China's neighboring provinces would likely see a massive refugee problem and economic instability. Its long-term goal is likely to be an independent North Korea, friendly to China but less dependent on its economic and military support.
If Trump's responses to this massively complicated problem seem largely off-the-cuff, one reason is that his administration has yet to nominate anyone for many of the relevant foreign policy positions in the Departments of Defense and State. In the administrations of Barack Obama and George W. Bush, many of these roles had been filled by June.
With North Korea prominent in the news, a number of public figures have been staking out positions about Trump's approach. Senator John McCain told a radio station that he considered Trump's comments to be poorly considered empty threats: "The great leaders I've seen don't threaten unless they're ready to act and I'm not sure President Trump is ready to act." But Dallas megachurch pastor Robert Jeffress, one of Trump's evangelical advisers, released a statement saying that the president has the God-given moral authority to resort to war if necessary.
Your author holds by his earlier analysis: Trump does not care about global stability or the lives of millions of people, but he cares about his domestic political fortunes, if only to keep himself out of jail. He is far less likely to start the biggest war of a generation if he believes he does not have significant political support for it at home.
On GOP support for postponing an election, and single-issue polls
You may have seen the poll saying that more than half of Republicans would support postponing the next presidential election. This poll should be taken with a grain of salt: It contains a number of questions that prime respondents to be more paranoid about voter fraud and seems "explicitly designed to produce an alarming result", in the words of Business Insider's Josh Barro.
In general, single-issue polling is less reliable than candidate approval polling, as the framing of issues can affect responses significantly. (Sanity Check almost never cites single-issue polls, for this reason.)
Progress
Five active-duty service members, represented by LGBT legal advocacy groups, sued Trump over his intentions to ban transgender personnel from serving in the military.
The C-Star, a ship purchased by far-right group Generation Identity to stop refugees from reaching Europe across the Mediterranean Sea, was in distress at sea and had to be helped by a refugee rescue boat.
Setbacks
The push to repeal Obamacare may be dead for now, but damage has already been done. According to a study by the Kaiser Family Foundation, many insurers have increased premiums as a buffer against political uncertainty. In many cities considered by the study, people will see increases of 10 percent or more next year.
Developing
According to an investigation by the Indianapolis Star, statewide GOP officials starting in 2008 expanded early voting stations in one Republican-dominated county and decreased them in the state's most Democratic county. Although registered voters increased in both counties, voter turnout increased in the Republican county and decreased in the Democratic county. Common Cause Indiana and the NAACP's Indianapolis chapter filed a lawsuit alleging voting rights discrimination in May. The suit is ongoing.
Farmers in California report that, as a result of the Trump administration's tough anti-immigrant policies, they're having trouble finding enough migrant workers to fully harvest their crops. If this continues, farmers are likely to see continued loss of farming income, and vegetable prices across the country could rise as well.