Day 297.
Sunday, November 12, 2017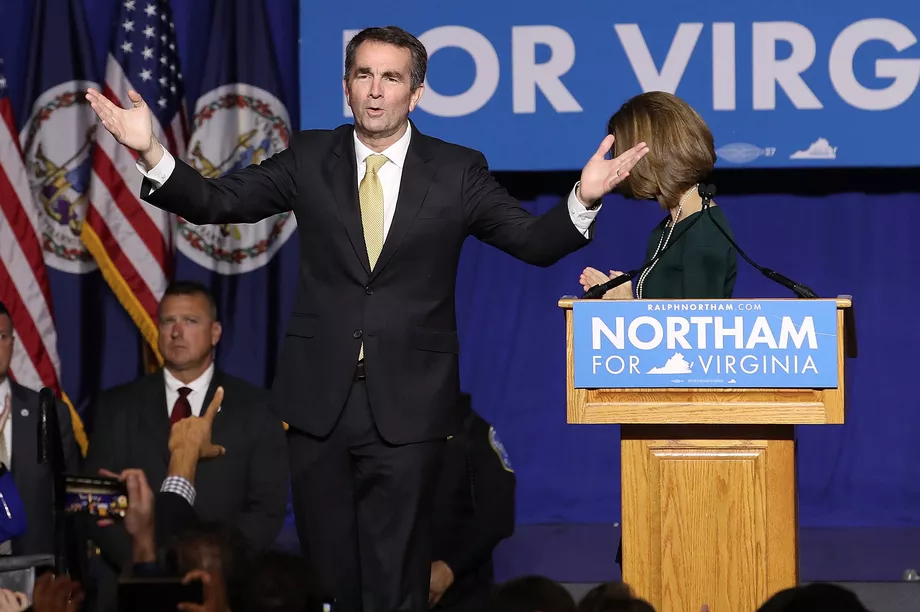 Dems beat back Trumpism with coast-to-coast election victories
On Tuesday, Democrats won a number of state and local offices across the country in the first regular election of the Trump era. The dramatic results gave more credence to the argument that the Trumpist transformation of the Republican Party may ultimately be its undoing.
Democrats elected governors in New Jersey and Virginia: The New Jersey win was expected, but the Virginia race was considered close up until the end. On local levels the election broke a number of barriers when it came to officeholder diversity: Cities in Minnesota and Montana elected their first black mayors, Virginia elected its first Latina and Asian-American delegates, and openly transgender candidates won races in Virginia, Minnesota, California, and Pennsylvania.
Democrat Manka Dhingra won a state Senate seat in Washington state, handing the party control over the governor's office and both houses of the legislature. In Virginia, Democrats are close to winning the House of Delegates: Three recounts, currently ongoing, will determine if they take the prize. Democratic state power in Virginia is especially key as state Republicans have aggressively exploited gerrymandering over the past decade. The next state redistricting will take place in 2020.
Was this an isolated blip, or voters regaining their senses and turning away from an increasingly authoritarian Republican Party? A POLITICO exit poll buoys the hope that it's the latter: Majorities of votes in Virginia and New Jersey told POLITICO they disapproved of Trump's performance, and that Trump was a reason for their vote.
Time will tell whether Republicans are capable of turning this defeat around. For now, activists and voters around the country can congratulate themselves for a job well done.
Accused of child molestation, Roy Moore charges ahead
Alabama will hold a special election for Senator next month, and on Thursday, the Washington Post accused Roy Moore, the Republican candidate for the seat, of molesting a 14-year-old girl in 1979 when he was a 32-year-old assistant district attorney.
According to the Post, Moore offered to watch the 14-year-old while her mother went inside for a custody hearing, got the girl's phone number, and later took the girl back to his home to initiate sexual encounters. Three other women also told the Post that he romantically pursued them when they were in their late teens and he was in his early thirties. Ultimately the Post spoke to more than 30 people for its story.
Moore denied the charges, but he did himself no favors during a radio interview with Sean Hannity, in which he could not say that he had never dated teenage girls while in his thirties.
The revelations threw a monkey wrench into Republican plans for what had been considered an easy victory in deep-red territory. Some Republicans withdrew their endorsements and called for Moore to step out of the race. But Republicans leaders, including Senate Majority Leader Mitch McConnell, would not give Moore a shove based solely on the reporting in the Post.
Even if the national party were to take a bolder stand, it might have few levers to pull. For one thing, absentee ballots with Moore's name on them have already been sent to voters. And Moore was never McConnell's favorite anyway. He ran in defiance of the Majority Leader, defeating fellow Republican Luther Strange in the primary with an extremist Christianist agenda. In the fight to define the Republican Party, the state of Alabama has become the next battleground.
Progress
Three more House Republicans announced they would not run for reelection next year. Twenty-nine Republicans have now said they will not seek reelection, compared to eleven on the Democratic side.
Months of ceaseless news coverage about Obamacare may have been good marketing: Compared to last year, enrollment for individual plans is up 179% in the first few days of open enrollment.
A dozen cities, including New York, Chicago, Oakland, and Atlanta, will provide detained immigrants with legal counsel to help them make full use of their rights in their cases.
Sen. Bob Corker, one of Trump's most outspoken Republican critics in Congress, announced that the Senate Foreign Relations Committee will hold a hearing examining the President's authority to use nuclear weapons.
Setbacks
Tens of thousands of Poles marched at a white nationalist rally in Warsaw, carrying banners that read "White Europe" and "Clean Blood".
Republicans are stocking the federal judiciary with partisan judges at a rapid clip, appointing eight appellate judges so far this year.
Some DACA recipients will soon be vulnerable to deportation, partially as a result of Trump's impulsive political moves. A mysterious problem with the mail seems to be causing delays in processing forms in time: Thousands of immigrants could be affected.
Millions of Puerto Ricans are without power again after the failure of a single repaired transmission line.