Day 423.
Sunday, March 18, 2018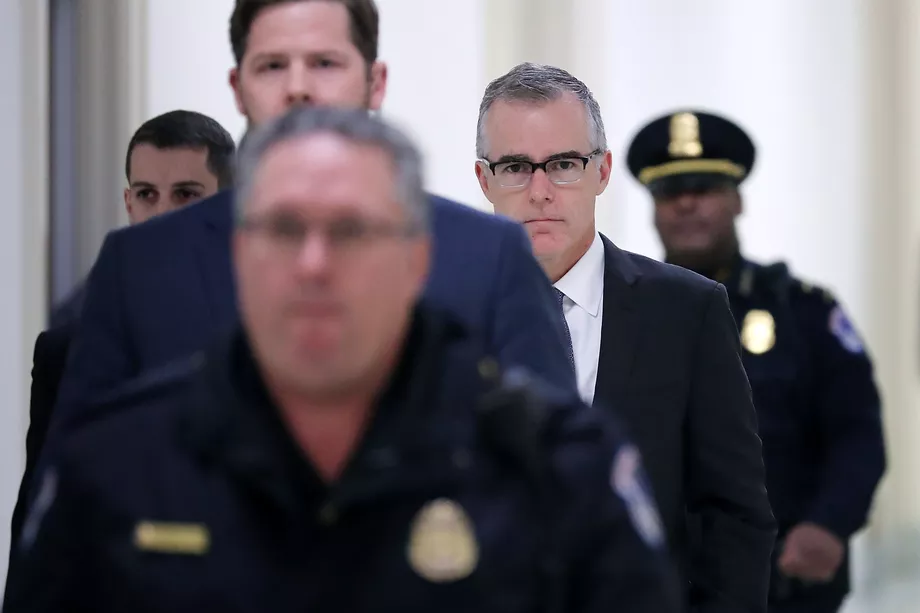 As Mueller closes in, Trump lashes out at McCabe
Donald Trump's war against the FBI escalated further on Friday night, as Attorney General Jeff Sessions announced the firing of FBI deputy director Andrew McCabe.
McCabe did not have a perfect record. As Lawfare notes, he had been the subject of an unreleased independent investigation which criticized him for a lack of candor under oath: This is typically a serious charge within the FBI. But McCabe's firing stands out in an administration that overlooks a constant stream of ethics issues from other officials, coming two days before McCabe's scheduled retirement and following months of public pressure from Trump.
The only reasonable conclusion is that Trump continues to push for ways to discredit Robert Mueller's Russia investigation as it closes in on him: This week the New York Times reported that Mueller's team has subpoenaed documents from Trump's company. The morning after McCabe's firing, Trump's personal lawyer John Dowd called for the firing of Robert Mueller, claiming at first to speak on behalf of the President and later saying he was speaking only for himself. Earlier in the week, Devin Nunes' House Intelligence Committee had shut down its own long-compromised investigation into the 2016 election, claiming there was no collusion to report.
It remains to be seen whether firing McCabe will backfire on Trump. McCabe had apparently kept detailed memos on all of his personal interactions with Trump, and has passed them to Mueller's investigative team. He has also retained counsel to explore legal options regarding his firing: A discovery process surrounding a McCabe lawsuit could compel the White House to disclose more damaging information.
Meanwhile, the U.S. has been gradually toughening its stance against the Russian government, but there remain sanctions that the administration mysteriously has yet to enforce. The Treasury Department announced new sanctions on 24 Russian entities and individuals connected to election tampering in the U.S. And the White House signed a joint statement with France, Germany, and the U.K. condemning Russia's role in the recent assassination attempt in London of former Soviet spy Sergei Skripal. Yet it's worth noting that the administration has still refused to enforce the sanctions package passed overwhelmingly by Congress last July.
If Trump moves to fire Mueller, we cannot count on members of his own administration, or Republicans in control of Congress, to stand up for his investigation. In that case, direct protest may be the strongest remaining defense of the rule of law in America. MoveOn is maintaining a rapid response list: If Mueller is fired they will send out the alert with information on where to gather. You can sign up here.
Progress
Democrat Conor Lamb won the special election for Pennsylvania's 18th Congressional District, beating his Republican opponent by fewer than 1000 votes. In the 2016 election, the district had favored Donald Trump by 20 points.
The alt-right may be collapsing from increased public pressure and simple incompetence. White nationalist Richard Spencer announced he would suspend upcoming public speaking engagements, blaming antifa groups for shutting down his public calls for ethnic cleansing. Meanwhile, the Traditionalist Worker Party has collapsed in a tawdry episode of a love triangle exposed, followed by a brawl, followed by the TWP's website deletion at the hands of a vengeful webmaster.
DeAndre Harris, a black man who was beaten by a group of white nationalists in last year's "Unite the Right" rally in Charlottesville, Va., was found not guilty of misdemeanor assault. (Why the police saw fit to charge him in the first place is another question.)
Thousands of high school students across the country walked out of classes to protest gun violence. The next coordinated protest, March For Our Lives, will take place across the country on Saturday.
Setbacks
Donald Trump fired Secretary of State Rex Tillerson over Twitter, announcing that he plans to nominate Tea Party Republican Mike Pompeo in Tillerson's place. Tillerson had been scheduled to meet with South Korea's foreign minister; the White House now plans to send Ivanka Trump in his place. Because an international nuclear standoff that could result in the death of millions is really the best way to learn on the job.
Developing
A spokesman for Immigration and Customs Enforcement abruptly resigned over misleading statements in which undocumented immigrants in Northern California were described as "public safety threats".
The Federal Election Commission is investigating whether Russian entities gave illegal contributions to the National Rifle Association during the 2016 presidential election.