Day 242.
Monday, September 18, 2017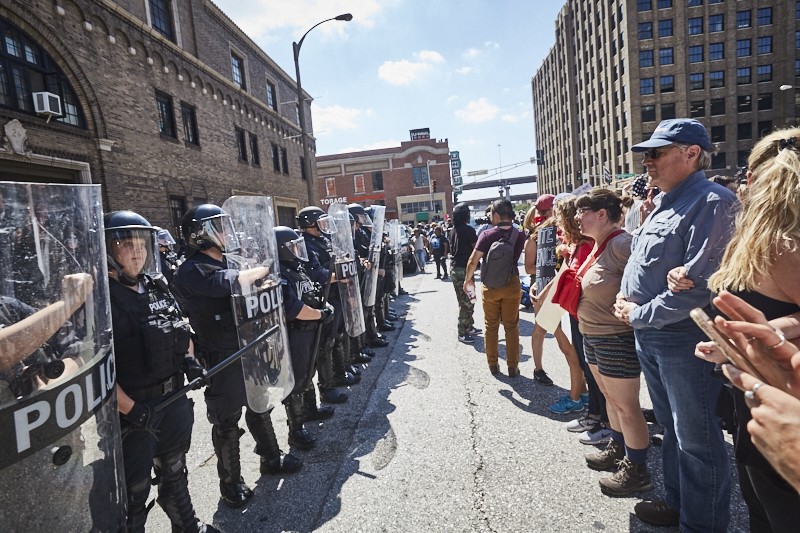 In St. Louis, not-guilty verdict for killer cop leads to a weekend of tense protests
More than 100 people have been arrested at weekend protests in St. Louis after a former police officer was acquitted of first-degree murder for the shooting death of a black man following a car chase. The judge's ruling ignores a number of unanswered questions and raises concerns by many in the area over a long-standing disregard of the lives of black people.
In 2011, then-police officer Jason Stockley shot and killed Anthony Lamar Smith following a three-minute car chase. Smith had rammed Stockley's SUV and sped off after being approached for taking part in a suspected drug transaction: After the chase, Stockley shot him five times at close range.
Slate has a detailed, if openly opinionated, summary of the issues in the case and the judge's not-guilty ruling. Stockley claimed he thought Smith was reaching for a gun, but a gun found in Smith's car had only Stockley's DNA on it, leading to accusations that Stockley had planted it. In addition, Stockley was recorded saying "we're killing this motherfucker" during the chase, which is arguably a statement of intent.
After the judge ruled that the prosecution could not prove Stockley's guilt beyond a reasonable doubt, activists kicked off a weekend of protests that led to more than a hundred arrests over multiple days. Some protestors acted non-violently while others threw water bottles and rocks at police. For their part, police fought back with tear gas, and in one highly publicized video, pushed an old woman to the ground and marched over her.
St. Louis is a twenty-minute drive from Ferguson, Mo., where in 2014 police shot and killed Michael Brown, an unarmed black 18-year-old man. In the aftermath of the Brown killing, the Justice Department released a report saying that black citizens were victimized by "nearly every aspect of Ferguson's law enforcement system", citing racist e-mails sent by police, and a system that used arrest warrants and fines as a way to squeeze revenue out of the town's black citizens.
GOP on Obamacare repeal: Full of sound and fury, signifying what exactly?
Senate Republicans have until the end of this month to pass an Obamacare repeal bill with only 51 votes, and with a few weeks left to go, are trying to revive such efforts again. This has led to a number of activist groups seeking to revive a wave of protests, whether in D.C. or through phone calls and letters.
Writing in Vox, Dylan Scott says that the left shouldn't worry much for now. Congressional Republicans are mostly just making a show for their base, but the political territory hasn't changed much. There is still no way for Republicans to live up to their years of irresponsible promises without killing thousands of Americans and suffering the political consequences for their cruelty later.
Although this may change in the last few weeks of September, for today, it would seem that a citizen's defense of Obamacare may not be needed in Congress. It would arguably be better to focus on the fact that Donald Trump's administration is trying to undermine Obamacare from within, by gutting its outreach budget.
Juggalos march for family as the left tries to bring them into their coalition
Washington D.C. hosted more clowns than usual this weekend, as the Juggalo March drew thousands of Insane Clown Posse fans to the National Mall. The Juggalos were protesting the fact that the FBI has classified them as a gang, which can lead to real-life consequences such as being denied a job because of a Juggalo tattoo.
Jack Smith IV has a great piece in Mic on the fascinating political angles in play. The Juggalos love ICP, Faygo soda, and drug use, but they also practice radical acceptance in a manner reminiscent of the "PLUR" manifesto of ravers. They are also strongly anti-racist: ICP has burned Confederate flags on stage for years.
Socialist movements are newly eager to build alliances with an already outcast community largely composed of white working-class people. Both the Industrial Workers of the World and the Democratic Socialists of America were present over the weekend to show support.
For their part, the Juggalos are warily considering whether they would choose to take part in any broader political movements. Kitty Stryker, the co-founder of anti-racist Juggalo group Struggalo Circus, told Smith that "There's a belief among some Juggalos that both sides want us to be canon-fodder--which, let's be real, has been the traditional way political parties have dealt with the poor since time immemorial. Juggalos are right to be suspicious of that."
Progress
A federal judge ruled that the Justice Department cannot withhold public safety grants from sanctuary cities.
The Office of Government Ethics reversed its recent decision and said it would prohibit anonymous donations to White House legal defense funds.
Donald Trump's political career is damaging his brand and hurting his organization. The Washington Post contacted more than 200 groups that had rented out space at a Trump property in the past three years. Eighty-five of them are no longer Trump customers, and thirty were willing to tell The Post that it was because of Trump's politics.
John McCain is supporting a bipartisan law that would challenge Donald Trump's announced ban on transgender troops.
Setbacks
In Providence, media conglomerate Sinclair Broadcasting Group is forcing its TV station to run pro-Trump political commentary and a daily feature called the Terrorism Alert Desk.
Former Press Secretary Sean Spicer made a cameo at last night's Emmys. Lest we forget, Spicer made a living selling the Muslim ban, the attack on police oversight, and the dismantling of the post-war global order to the press. Hollywood should be ashamed of its role in normalizing him.