Day 318.
Sunday, December 3, 2017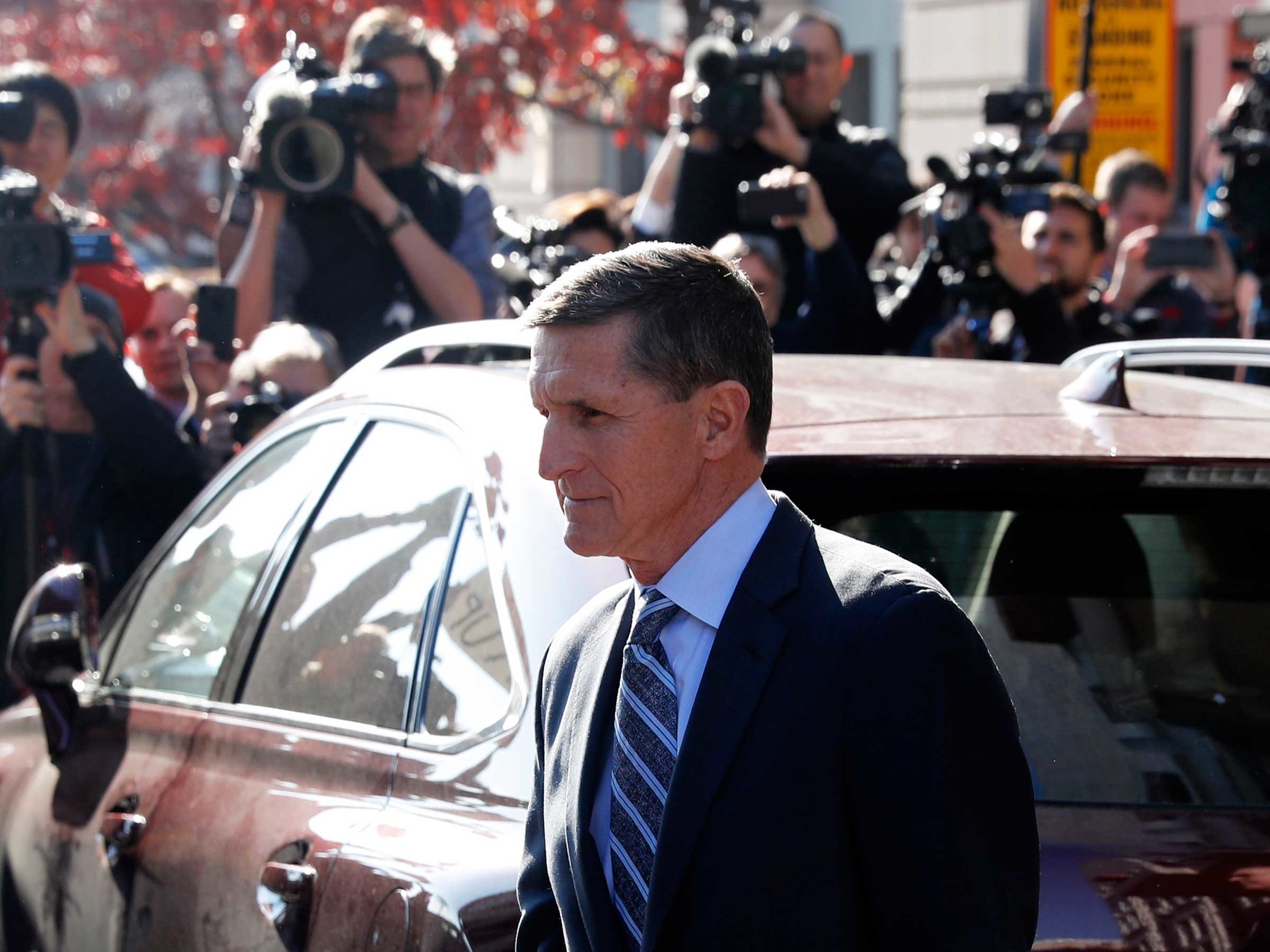 Michael Flynn flips
Michael Flynn, Donald Trump's former national security adviser, pleaded guilty to lying to the FBI on Friday, in a development that dramatically increases the possible stakes of special counsel Robert Mueller's investigation. Flynn confirmed in a statement that he is cooperating with the special counsel. His plea is relatively light considering what else he may have been guilty of: The fact that Mueller's office would be satisfied with such an outcome implies that Flynn has been supplying the investigation with significant information that will come out in the future.
As Flynn's fortunes have sunk over the past few months, the Trump administration has done its best to paint him as a rogue actor whose crimes do not implicate anyone else. However, the New York Times reports that internal emails, interviews, and court documents show that Flynn was in constant contact with other senior members of the Trump transition team before and after he spoke with the Russian ambassador.
The next target could be the president's son-in-law Jared Kushner. According to Bloomberg and BuzzFeed, Kushner instructed Flynn to contact foreign ambassadors and officials before they were in the White House, in an attempt to block an upcoming U.N. Security Council resolution condemning Israeli settlements. In doing so, Kushner may have violated the Logan Act, which prohibits private citizens from conducting diplomacy with foreign governments--but it's worth noting that the Logan Act has not been used to prosecute anyone since the 19th century.
To be clear, these most recent revelations do not materially advance the case that the Trump campaign colluded with the Russian government during last year's election. As before, the larger questions are about what remains hidden from public view, either within the leak-proof operations of Mueller's team, or secrets nestled deep inside the Trump administration. For now, the public will continue to wait for Mueller's work to reach its fruition.
Republican tax rewrite closer to law, but still vulnerable
On early Saturday morning, the Senate passed a tax code overhaul on a party-line vote, bringing Republicans one step closer to claiming their first major policy victory of the year. The bill slashes corporate tax rates, reworks a wide range of deductions and will add about $1 trillion to the deficit. It will also repeal the Obamacare individual mandate, which is projected to increase the ranks of the uninsured by 13 million.
The bill is not yet law, and it can still be stopped. Both houses of Congress now begin the reconciliation process by which they agree on the same law, then hope to pass that law in their respective chambers. But the differences between the laws passed by the House and Senate may not be enough to kill the bill on its own, and Republicans are eager to declare a victory by year's end.
It takes a special political skill to craft an unpopular tax cut, but the GOP appears to have pulled it off. Many Americans believe the bill will mostly benefit the rich, and as a result this bill is actually less popular than tax hikes under Presidents Clinton and Bush. Democrats are continuing to sound the alarm: Bernie Sanders told a rally in Ohio that "this is class warfare", and even centrist Democrats have voiced their opposition.
The resistance managed to defend Obamacare once: It can pull off the same feat with this bill. If you do not live in a deep blue state, please call your Senators.
Sexual misconduct allegations continue to roil Washington
Allegations of sexual misconduct continue to emerge in national politics, testing the instincts of party leaders in Washington. A woman who settled a sexual harassment claim with Rep. John Conyers (D-Mich.) described details of her mistreatment on television. An Ohio Army veteran became the fifth woman to accuse Sen. Al Franken (D-Minn.) of inappropriate touching. And POLITICO reported that Rep. Blake Farenthold (R-Texas) used taxpayer funds to settle a sexual harassment claim brought by his former spokesman.
So far, Democrats have shown more resolve than Republicans in rooting out this behavior from their own party. House Minority Leader Nancy Pelosi has called on Conyers to resign, and a number of Democratic representatives called on Franken to resign as well. House Speaker Paul Ryan, on the other hand, has not called for Farenthold's resignation.
All this takes place amid the ongoing campaign for Alabama Senator: The special election in that state takes place in less than two weeks. Republican Roy Moore and Democrat Doug Jones are still neck-and-neck with voters in spite of allegations by multiple women that Moore pursued romantic and sexual relationships with them when they were underage. In one poll, only 35% of likely voters said Moore made unwanted advances towards teenage girls, with 37% saying they were unsure or had no opinion, and 28% believing Moore's denials.
For his part, Senate Majority Leader Mitch McConnell seems to be making peace with having an alleged child molester join the Republican caucus: He told ABC he would allow Moore to serve if elected. After the repeated allegations against Donald Trump, Moore's seating in the Senate would be simply one more step towards the GOP becoming the party of sexual misconduct. Time will tell whether the Democratic Party can make the most of this appalling development.