Day 214.
Monday, August 21, 2017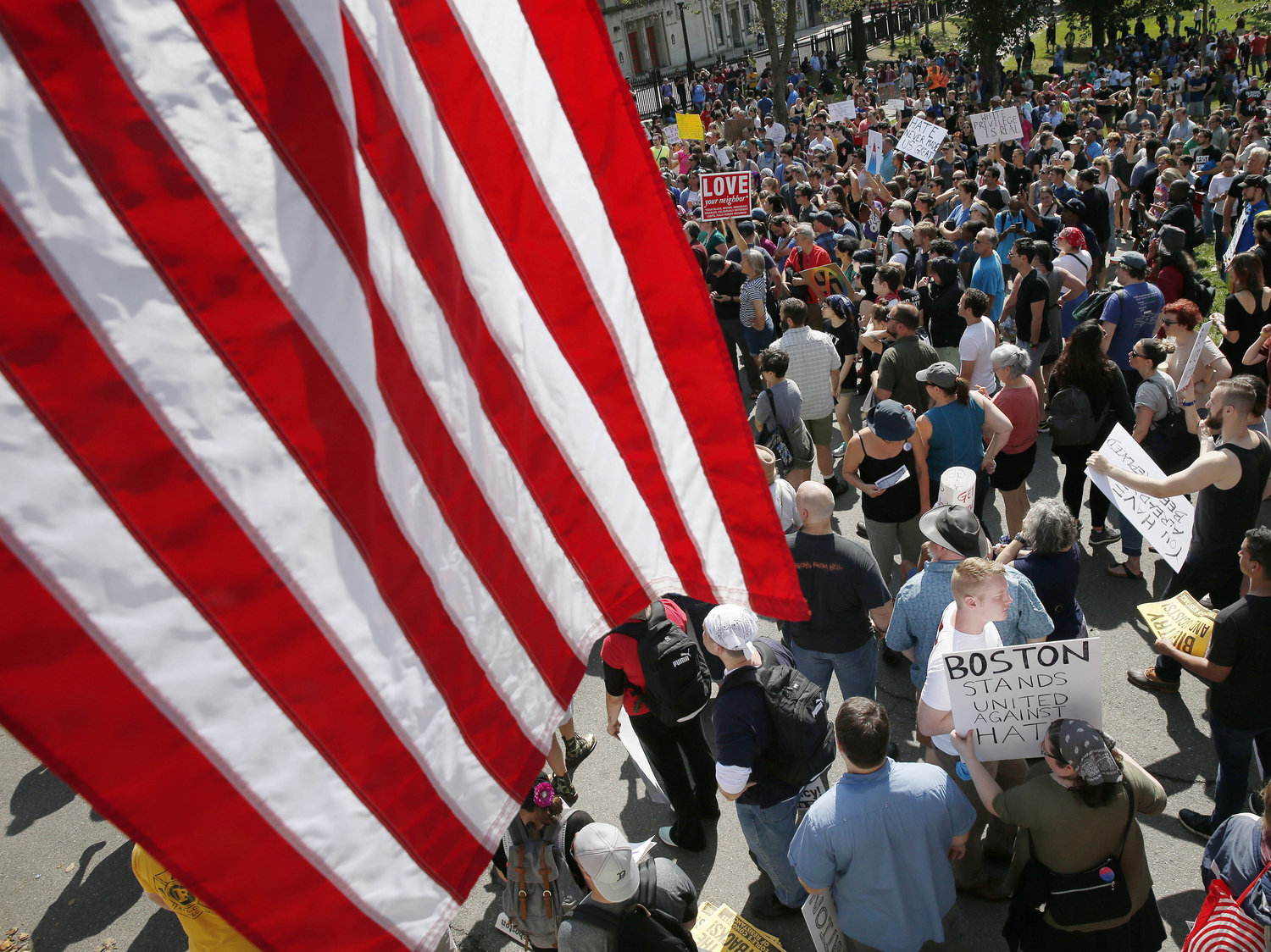 Americans shove racist extremists back to the margins, with or without the President's help
One week after white supremacist violence rocked Charlottesville, Va., anti-racist demonstrators overwhelmed a planned "free speech" rally in Boston on Saturday. About 50 people attended the rally, compared to an estimated 30,000 to 40,000 counterprotestors. That same day, thousands of people attended an anti-racism march in New Orleans. Both marches were largely peaceful, with no serious injuries reported.
Donald Trump could not stop his equivocation about anti-racist protestors, tweeting that there were "anti-police agitators" in Boston, although he later tweeted a message of support for the march overall. The fallout from his similar actions last week continued. Megachurch pastor A.R. Bernard stepped down from Trump's evangelical council. More than half of Trump's Digital Economy Board of Advisors resigned. The White House presidential arts committee resigned en masse. And Trump's Mar-a-Lago Club lost nine charity event bookings in the past week.
White supremacists were further pushed to the margins of society while activists continued to speak out against Confederate monuments across the country. Kyle "Based Stickman" Chapman, a prominent figure in the far-right, was charged with felony possession of a leaded stick at a protest in Berkeley, Calif. in March. Cities in Ohio and Montana, as well as Duke University in North Carolina, removed or announced plans to remove Confederate monuments. Protestors in Memphis covered a statue of slave trader Nathan Bedford Forrest in a chaotic protest that resulted in seven arrests. And city officials in Gettysburg, S.D., resisted calls to remove the Confederate flag from the city's police uniform.
Progress
White House strategist Steve Bannon was fired, or quit, depending on who you believe. Bannon was the most prominent white nationalist serving in the Administration, so in the weeks to come his departure may mean less political cover for other bizarre Administration figures such as Stephen Miller or Sebastian Gorka. On the other hand, Trump has a long history of opportunistic race-baiting, from long before he met Bannon, so time will tell how much change will come due to Bannon's departure.
The Trump administration has backed down from its earlier threats to kill Obamacare by cutting off subsidies to insurance companies.
Defend Europe, the ship launched by European far-right groups to repel refugees entering from the Middle East, has failed in its mission.
Setbacks
ProPublica reports that hate incidents against mosques and Islamic centers jumped sharply in late 2015 and have stayed at that rate ever since. Such hate attacks are now occurring about once every three days.